Artifacts Recovered from Alsager Mere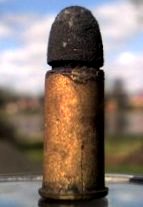 Bucket Dredging
Using a dredge made from a welded steel cage, many items were discovered. One of which was a live, unfired bullet!
Magnetic Dredging
Super strong magnets known as rare earth magnets can be used to find any ferrous (Iron like) materials. Only small magnets have been used so far, but these are able to separate small particles from the lake bed. It takes little effort to collect a sample, therefore showing that there is quite a reasonable presence of iron in the sediment. In the near future a much larger magnet will be used in an attempt to recover or locate larger objects.
Artifacts
If you have any information on the artifacts in this section, or would like a higher resolution image, please contact us.
Unfired Bullet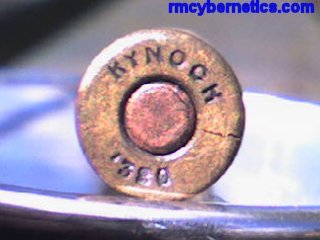 This is the base of the bullet shown above. The text on the bullet says "KYNOCH .380"
The cartridge is a .380 Revolver (Short) with an outside-lubricated bullet of up to .376" diameter.
It was loaded with 10 grs. Black powder or 3 grs. Smokeless powder with a 124gr. Lead, Solid or Hollow-point bullet and produced a muzzle velocity of around 1050 fps.
This type of cartridge was produced in great numbers from the early 1870's and production ceased in the 1950's. It was used in single shot rifles, pistols and revolvers and was only suitable for short-range target and small game use. 
Information provided by Kynamco
Old Pocket Watch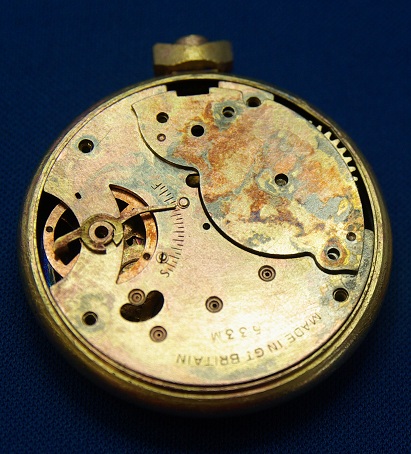 This watch was found in summer 2011 after raking out the weeds for fishing. It was in terrible condition and looked little more than a muddy rock. It had been in the water for some time and all but the brass parts were missing or corroded away. The only markings on it say "MADE IN GT BRITAIN 533M". The way the markings are stamped indicate that is probably less than 100 years old.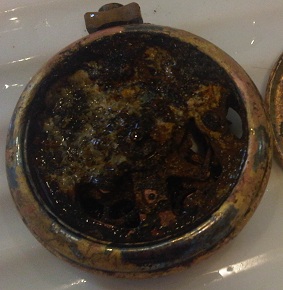 Beer Mug, Jar, and Earthenware Pot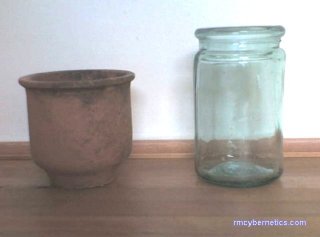 The pot on the left has a clear glaze on the inside, but it has not been neatly applied. This suggests that it was made purely for its intended function and not as an ornament. The pot would seem to be of a utilitarian earthenware type, produced widely throughout Europe since the medieval period. It is therefore impossible to suggest a manufacturer or date, although it is probably of local origin.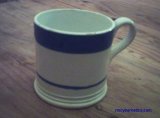 This object is a mug, possibly for beer or ale, of a type popular during the 19th century. Again the piece may be of local origin, but we are unable to identify the manufacturer or date.
With info from The Potteries Museum & Art Gallery
Decorative Mug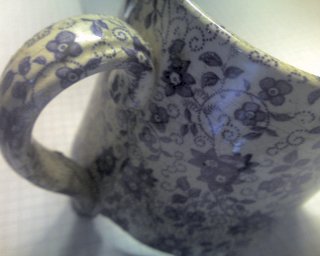 This part of a mug is typical of the many pottery fragments that can be found in Alsager Mere.
You can see how the pattern extends around the rim to the inside of the mug.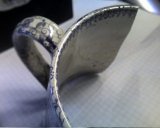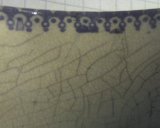 Glass Bottles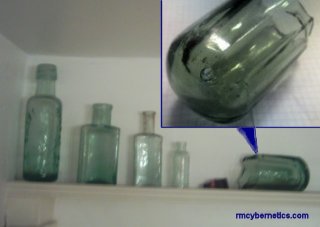 These are various bottles found in and around Alsager Mere. The object shown on the left has a rounded base (or top?) and eight flat sides. The rest of it is missing, which makes it hard to tell what it was used for.
Marmalade Jar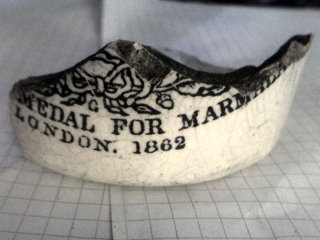 This is a small part of an antique marmalade container. Fortunately the remaining text gives us most of the important information. It says "MEDAL FOR MARMALADE" – "LONDON. 1862"
On the base the remaining part of the stamp shows a letter K in a circle and has the word "NEWCASTLE"
?Unidentified Object?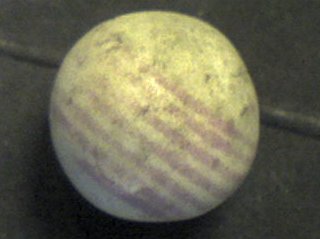 This object is a small ceramic ball with an average diameter of 15mm. It seems to be hand made as it is not perfectly round. The age and purpose of this artifact are unknown at this time.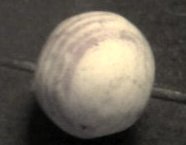 There are seven purple parallel lines that go about 90% around the ball. These lines are either faded or were not painted around the entirety of the ball.
If you have any idea what this object is please contact us or post a comment below.
Next Page: Wildlife of Alsager Mere
Previous Page: Depth Maps of Alsager Mere